Enjoy live Dealer Blackjack
If Blackjack's your main game then there's one format of it that you're going to want to know all about as it's been hugely popular with players the world over which is live dealer Blackjack! With live dealer Blackjack you no longer need to be in the casino in order to actually get a truly engaging experience. Live dealer Blackjack offers all the same hustle bustle that the regular game of Blackjack does; except with a few added perks which we think makes it the better format.

Incase you're unsure what live dealer Blackjack is then the easy way to picture it is by imagining a regular old casino filled with Blackjack tables, dealers, and everything else that makes a casino a casino. The only difference here is going to be there aren't actually any players standing on the casino floor. Instead there will be cameras there creating a live stream feed of every Blackjack table which will be be available at the live casino for you to tune in to.
Live dealer Blackjack is truly interactive
This isn't the same as just watching some random tv screen like you see on late night programs as anything you decide to do on the screen will have a real world effect in the casino. Not only that but you'll also be able to chat along with the dealer as you play live dealer Blackjack which means you'll still feel like you're getting a personal and engaging experience every time you log in.
Playing live dealer Blackjack is incredibly easy too. There's very little to learn as the betting here has been made incredibly intuitive meaning you'll probably already know what to do before being told. When you load up your live dealer Blackjack table you'll be met with a stream featuring the dealer, the table, a giant deck of cards, plus a stack of virtual chips. The deck of cards here has been supersized simply so that even mobile players will be able to see all the cards being dealt out without having to second guess what they are.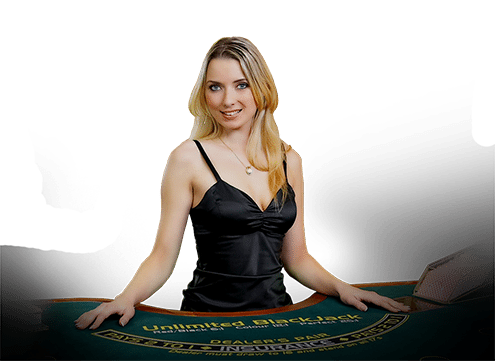 To make a bet in live dealer Blackjack requires just two clicks. The first click being that you click on the chip denomination you wish to bet with followed by a second click in which betting box you'd like to place that chip.
There are additional buttons to help you remove bets or make bets faster however that's all there really is if you want to get involved and start playing at the live dealer Blackjack tables!