Online Slots are on another level
There's no game variant that's benefitted more from being ported over into the online and mobile format than slots. This is for a wide range of reasons but players are certainly feeling the benefits which is why they're the most popular genre of online and mobile slot games today. The biggest selling point when it comes to slots is probably how many games you have to choose between. The average online or mobile casino nowadays probably stocks a few hundred unique slot games on their site with the biggest sites now starting to break that 1,000 game barrier!

This incredible range of choice that online and mobile slots are able to offer players means that there's typically always going to be at least a handful of slots that are right up your alley in terms of gameplay and theme although that number is usually higher for the average player. There are three main types of online slots for you to play and knowing which type of slot you prefer the most will go a long way in helping you to determine which games it is you'd enjoy the most.
There's three main types of Slot
The first type of slot a casino will offer to players are the fast paced 3-reel slots. These are the slots that are very similar to the old fruit machine style of game that you'd see in pubs up and down the country and the main idea behind these slots are to spin quick and spin often hoping to take down one major prize. The 3 reel slots you find at online and mobile casino don't typically come with big features although the odd one does and instead they focus and fast action, big adrenaline rushes, and no nonsense action so if you're a no frills kind of player then the 3 reel slots will be your cup of tea!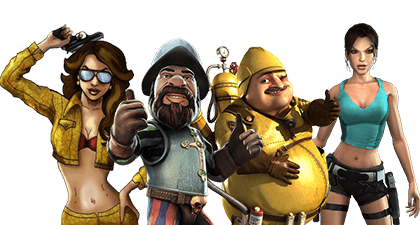 The second type is video slots and these are the most popular type of slots you'll find at any online or mobile casino. What makes these slots so enjoyable is how many unique themes and styles these games have which is made all the better by the fact they have huge feature rounds in the games which add to the excitement whenever you spin. These feature rounds will often look like blockbuster cinematics too which also helps to draw in many players. The jackpot prizes of these slots can also be as high as six figures too which is yet another appeal to them.
The big money slots
Jackpot slots are the final type of slot you'll run into and these slots are for players who are looking to take down the crazy jackpots you read about in the news. At any one time the casino industry will have a handful of slots that are offering up a multi million pound jackpot prize that can be won for spins totalling no more than a couple of pence which is a pretty huge draw. Jackpot slots play very similar to video slots it's just the end prize and frequency at which they're won that differs.
Slots are only getting better
All in all we think it's fairly easy to see why slots are so popular with players today and we think this trend will continue in an upwards trajectory for slots for many years to come. There's well over a thousand unique online and mobile slots for you to try your hand at and with that many slots to choose from there's always going to be a couple of titles right up your street. If you're an adrenaline junky then it's the 3 reel slots you'll want to start your journey on, and if it's the big cinematic features and exciting gameplay then it's the video slots direction you'll want to turn, and finally if you're in it to win big then there's only one destination for you which is the jackpot slots area!